Why Akicon?
"Akicon" is a manufacturing brand focusing on CUSTOM products for kitchens & baths globally, which has been a manufacturer of kitchen and bath copper faucets, sinks, hoods, and ventilation for the past 15 years. We have an established track record, and our products deliver optimum customer satisfaction.

When you walk down the aisle of your appliance showroom, most hoods look the same, so why can't you be the unique one?

You can choose any style of the range hood. If you are still looking for your favorite hood shape and style in Akicon's hoods, we can also make a custom hood designed just for you! Show us your sketch, and we'll create it!

You can choose the design, metal, finish, and size. It's entirely your decision. When you want a hood finish to match your cabinets, give us a color samples, and we'll powder coat your hood to match.

As part of the process, we'll design and deliver an excellent kitchen ventilation solution for you. Whether it's a problem with non-standard sizes, off-pipe connections, over-height hoods, etc., we'll help you solve it based on our years of experience making and installing hoods.


You can match a complete kitchen set in our store, including a custom hood, insert range hood, custom sink, copper faucet and accessories, and various colors. The same colors coordinate with each other and are independent of each other, making your kitchen look pleasing to the eye. There are a hundred Hamlets in a hundred people, and buying a kitchen set in the same store will reduce color trial and error.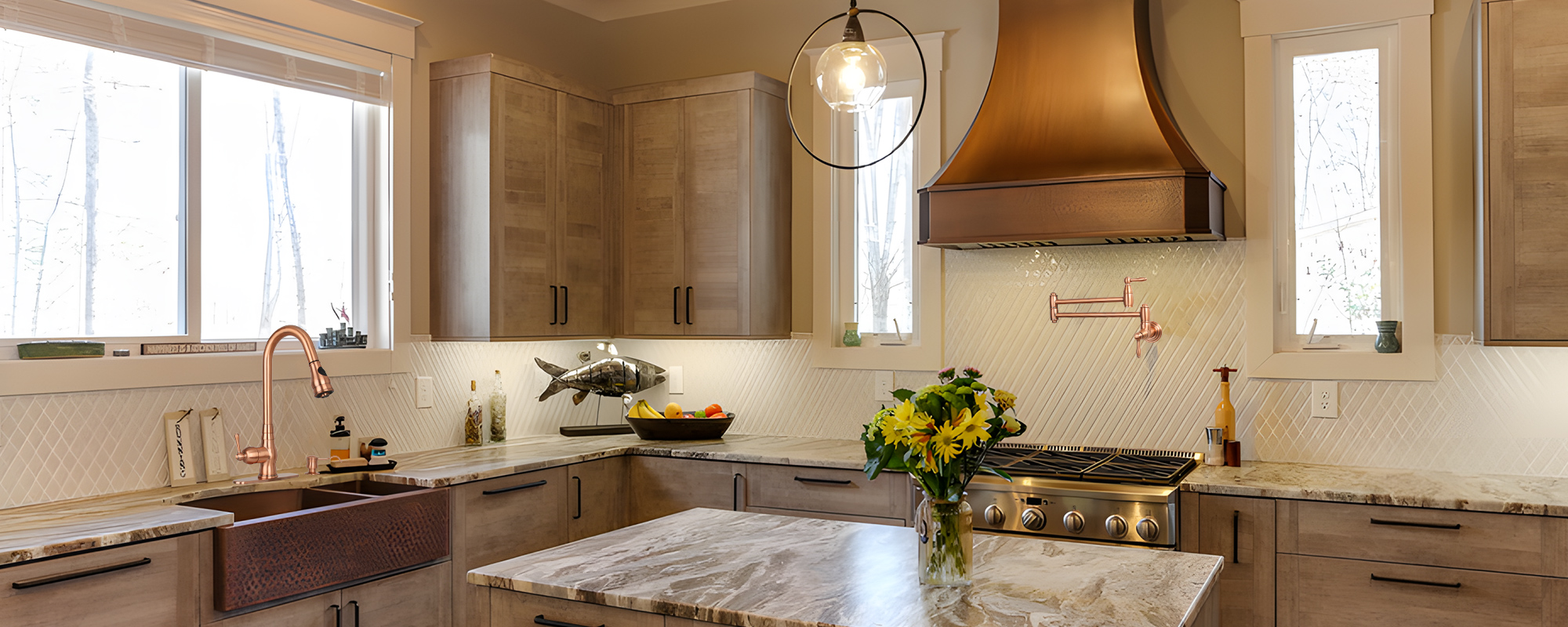 * Customer Service
Our customer care team would love to assist you with all your queries and concerns. We set up stockroom in California, Texas, and Georgia to meet your various order requirements; we promise to ship out within 48 hours. (Except Custom Products).


* Guaranteed Products & Return Policy.
We are familiar with United Stated standard testing clauses and keep pace with UL, Energy Star, HVI, NSF, CSA, UPC, and CEC Title 20/24. All products are certified and have a Certificate of Liability Insurance. If it is a product quality problem, we promise to return & exchange it for free. (Custom products require additional consultation)

If you would like to discuss what solutions we can offer, please don't hesitate to contact us. We would be happy to discuss how we can improve your business in more detail. We look forward to having a fruitful working relationship with you.

* Cooperation Partners
Our team has experience working with leading US firms working closely with the most competitive companies sources in the home improvement industry. We are familiar with United Stated standard testing clauses and keep pace with UL, Energy Star, HVI, UPC, CSA, and CEC Title 20/24.

You can search the "AKICON" brand online through these platforms and sales channels, and we believe that genuine user reviews and installer feedback will relieve your doubts.

What you need is not only a perfect product. Excellent after-sales service and reliable quality are our commitments.