AKMX Series
* Free shipping
* Ship-out in 48 Hours
* 30-Days Free Return Policy
* 3 Years Warranty
Product Description:
The AKICON Wood Barn Door combination contains everything needed to transform any doorway into a stylish transition between spaces. The rustic steel hardware and pine barn door are the intersections of style and functionality. Perfect for bedrooms, kitchens, offices, dining rooms, and many more settings.

We proudly make AKICON barn doors in the US and offer the most popular American farmhouse styles and many size options. It's easy to assemble Paneled Wood Stained Barn Door takes minutes to put together. AKICON barn doors are designed to be easy Do-It-Yourself projects, so customers can build one-of-a-kind barn doors at a budget-friendly price. You are not only buying a barn door from us but also bringing home a piece of natural artwork.
Product Features:
* Sturdy: Made of Premium high-quality pine American-grown pine wood, 1.5" thickness handcrafted in the USA.

* Great Quality: Heavy-duty, no stain no warped. If you find any quality problems such as damage during transportation, warping of the wood, etc., please contact us and we will send you replacements for free.

* Easy to Assemble & Install: Pre-cut, Pre Drilled. All wood panels have pre-made grooves and pre-drilled holes for the installation guide. Making it easy for putting it together.

* Value for Money: Unassembled barn door is packed to ensure maximum cost savings and is fast delivered directly to your house effectively.

* Perfect Solution: Professional step-by-step instruction manual & video will help you solve all installation problems in time. NO NEED for a craftsman or a carpenter.

* HARDWARE INCLUDED: 1 Bent strap steel sliding door track and hardware kit. All screws included along with pre-drilled screw holes ensuring ease of assembly.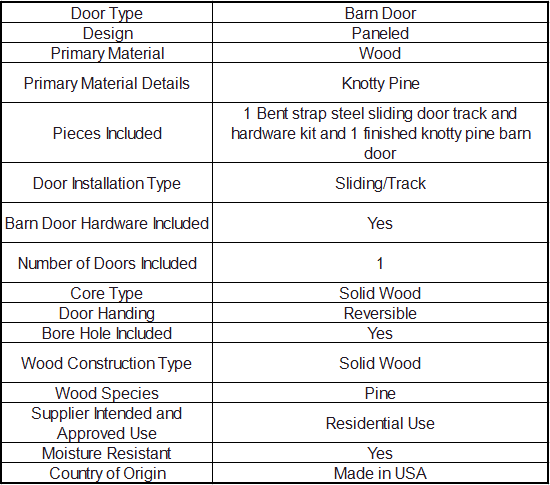 | | |
| --- | --- |
| 24" x 84" Size | |
| Door Width - Side to Side | 24" |
| Door Height - Top to Bottom | 84" |
| Overall Product Weight | 50lb. |
| | |
| 28" x 84" Size | |
| Door Width - Side to Side | 28" |
| Door Height - Top to Bottom | 84" |
| Overall Product Weight | 58lb. |
| | |
| 30" x 84" Size | |
| Door Width - Side to Side | 30" |
| Door Height - Top to Bottom | 84" |
| Overall Product Weight | 69lb. |
| | |
| 36" x 84" Size | |
| Door Width - Side to Side | 36" |
| Door Height - Top to Bottom | 84" |
| Overall Product Weight | 70lb. |
| | |
| 38" x 84" Size | |
| Door Width - Side to Side | 38" |
| Door Height - Top to Bottom | 84" |
| Overall Product Weight | 70lb. |
| | |
| 42" x 84" Size | |
| Door Width - Side to Side | 42" |
| Door Height - Top to Bottom | 84" |
| Overall Product Weight | 80lb. |
| | |
| Other Dimensions | |
| Door Thickness - Front to Back | 1.5" |
| Barn Door Height with Hardware | 90" |